Dreamsea Surf House Portugal is located in Sintra, around 30 minutes from Lisbon, the capital of Portugal. A strategic position with 7 different surf breaks within a 15 minutes drive with dazzling scenery.
Our surf house is a perfect place for couples, friends, families and solo travellers. For those who like to share their hobbies, sporty people in love with nature, the ocean, and a way of living that goes beyond the stress of the cities and allows you to meet new friends, and share moments and passions with them.
ACCOMMODATION
Our rooms are decorated and designed carefully with special love to details, in order to offer an idyllic accommodation experience during your stay at Dream-sea Surf House. Get immersed in our "boutique hotel" style rooms and have the best rest after a demanding day and night.
We offer you different kinds of rooms in order to fit all your needs:
SUITE PRIVATE ROOM
Our suites are decorated with special attention to details, with inspiration from different places of the world. Our interior designer has created special areas where you can breathe and relax after a challenging day. The perfect choice for couples and solo travelers that want an extra of privacy and comfort.
Double bed
Private bathroom
Towels
Extra care
Exclusive design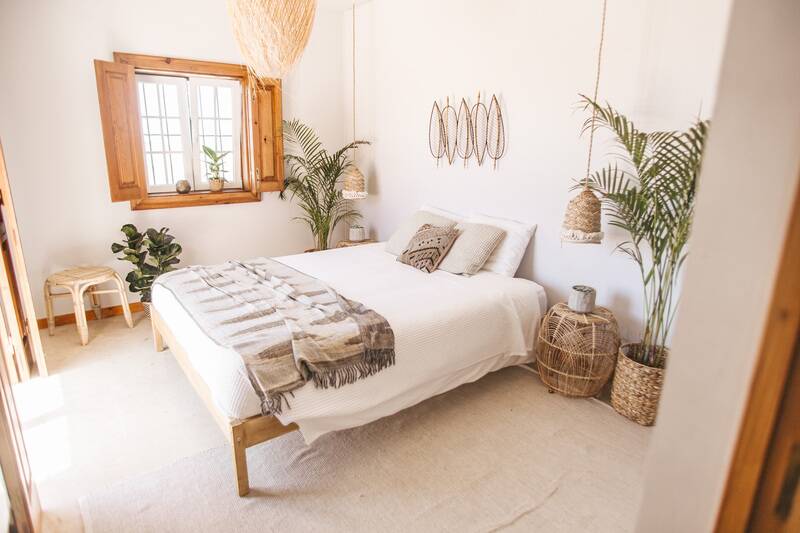 DOUBLE PRIVATE ROOM
Our double rooms are the perfect choice for couples or solo traveleres that want an extra of privacy and comfort staying in a private room, decorated and designed with love by our interior will inspire your dreams, the only difference with the suites is that the bathroom is shared between the 3 double rooms.
Double bed
Shared bathroom
Towels
Extra care
Exclusive design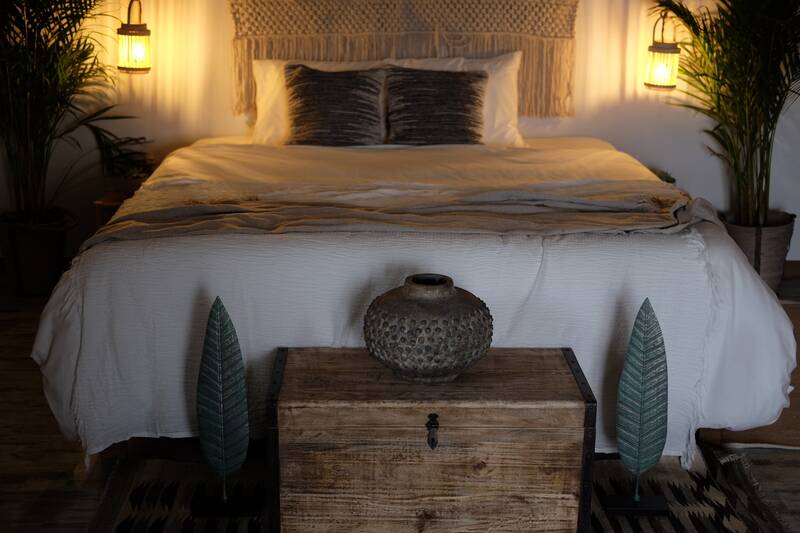 TWIN ROOM
Our twin room is the perfect choice for friends and solo travelers that are looking for a comfortable room to share with old and new friends. Our interior designer has made the most of this room, creating ample spaces where friends can enjoy an unforgettable holiday.
2 individual beds
Private bathroom
Towels
Extra care
Exclusive design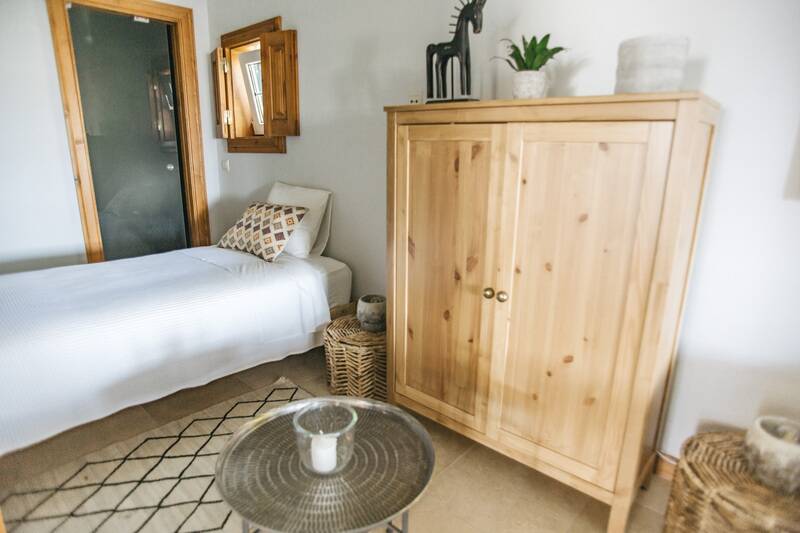 DORM ROOM
Our only dorm room with private bathroom and terrace is the perfect choice for groups of friends and solo travelers in a budget. A large room that will change your concept about dorm rooms, where you can have a good rest and recover all the energy spent during the surfing sessions.
4 individual beds
Private bathroom
Towels
Extra care
Exclusive design
Terrace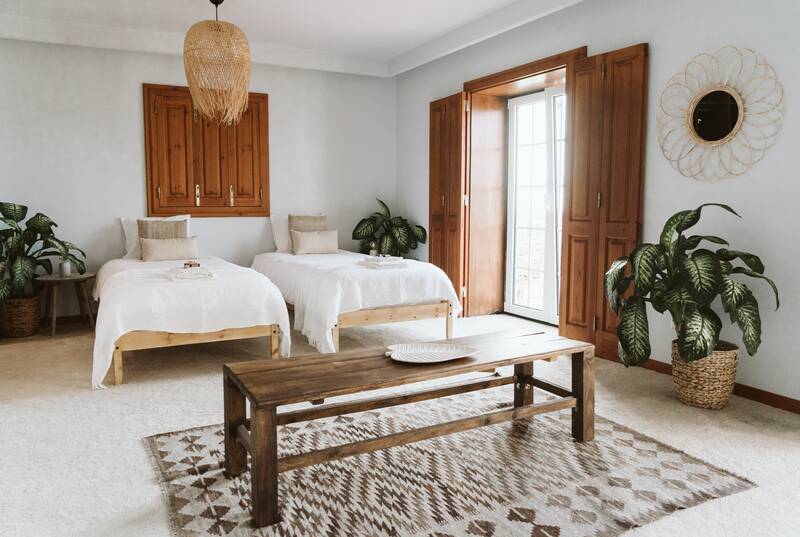 SWIMMING POOL & TERRACE

Swimming Pool
Thanks to its sunny weather, Portugal is the perfect place to enjoy summer and winter. With the highest number of sunshine hours per year, and the longest summer in Europe, Portugal is the place to be. Enjoy our outdoor swimming pool, and recharge your body with the energy of the Sun.
GYM
If the surfing conditions are not good, or if you feel like you still having energy to use in your body, our professional instructor will help you with a personal training focused on surfing. Go to the gym and prepare your body for surfing control and endurance specialized exercises.
SURF LESSONS
Our surf program has been specially designed by professionals of physical education, surf and sports. Created and meticulously designed for all levels of surfers and for all physical conditions. By joining our surf program you will not only be able to taste the surfing life and surf training, but you will also be able to improve your skills, and more important, gain the necessary knowledge to continue your training and progress at home. If you are interested in becoming a real surfer our surfing program is the key.
If you want to become a better surfer, we have the best coaching programs available to help you work in your weaker areas and achieve your goals.
OUR SURFING PROGRAM IS DIVIDED IN THREE LEVELS:
BEGINNERS
This program is created and focused on people that have never surfed before or are not able to surf green waves. Joining to this program you will learn all the basic of surfing; be able to catch your first wave; and according to your progress, you will be able to go to the lineup and surf green waves.
INTERMEDIATE
If you are already a confident surfer, capable to catch green waves and want to start learning some surfing tricks, improve your technique, timing and understanding of surfing, this is your group.
By following this program you will improve your technique and intuition of your body and surfing in general and leave being a much better surfer than when you arrived.
ADVANCED
Even advanced surfers are in continuous learning process. Joining our program for advanced surfers you will be able to enjoy different kind of waves with our surf guides, and you will accelerate the process of learning, polish your technique and become a better surfer in a short period of time.
YOGA
Find the perfect equilibrium for your body and soul complementing the practice of surf with yoga lessons. Yoga improves important skills for surfing such as balance, focus and breathing. Our morning lessons are meant to energize your body and mind and the evening lessons are good for stretching your muscles and relaxing after the intense day of sport and adventure.
DISCOVER SINTRA & PORTUGAL
During your stay at Dreamsea Surf House Portugal, you will discover the area, and visit several beautiful beaches for surfing. But why not take advantage of the occasion and discover a little bit more of Portugal. Join our trips and explore Sintra and Lisbon, two cities you won´t regret to visit and discover.
SINTRA
Sintra is a small and very picturesque city, a mandatory visit if you are in Portugal, located in the hills surrounded by the most beautiful nature; Sintra was a summer getaway for the Portuguese aristocracy. You will feel like in a fairy tale surrounded by colorful castles, amazing buildings and endless gardens. Unesco World Heritage since 1995, Sintra is a visit you can´t miss.
LISBON
What can we say of Lisbon, one of our favorite cities, a European capital that is different from the rest; a place that invites you to walk and get lost into their streets, with countless corners to discover; viewpoints and places where you can breathe and feel the true life of Lisbon. Doesn´t matter how many times have you been, Lisbon has always something else to show you and worth a new visit.
SINTRA COAST
The coast of Sintra is one of the most beautiful coasts in Portugal, not so famous as others, but full of little corners to discover: old fishermen towns built on the cliffs like "Azenhas do Mar", the most beautiful beaches, old trams that take you to a different time and place that will make you feel like in a little Caribbean island. An area to fall in love with Portugal.